Drive-through simulation helps agencies in Canada and U.S. to vaccinate more people
TORONTO, March 22, 2021 – As cities and towns across Canada and the United States grapple with the logistics of planning COVID-19 vaccine sites, York University professors have been busy helping to plan mass vaccinations using different methods, including drive-through vaccination centres.
The vaccination drive-through simulation, which has now helped organizations in both countries to plan how to get as many people vaccinated as possible, was developed by Faculty of Liberal Arts & Professional Studies Associate Professor Ali Asgary, associate director of the Advanced Disaster, Emergency and Rapid Response Simulation (ADERSIM) in collaboration with the Laboratory for Industrial and Applied Mathematics (LIAM), led by Professor Jianhong Wu of the Faculty of Science. Continue.
School testing could get students back in classrooms
TORONTO, Jan. 14, 2021 – Testing can significantly control outbreaks of COVID-19 in Ontario schools, especially when combined with other measures, such as mask wearing, say York University researchers who led the study.
The researchers found that testing is effective in controlling the SARS-CoV-2 infections in schools as long as it's done frequently, and the tests are processed quickly. It's also important to ensure infected students self-isolate at home. Continue
International collaboration focused on controlling COVID-19 in Africa
TORONTO, November 30, 2020 – Researchers from York University are joining with organizations across Africa to predict the spread of the COVID-19 pandemic and provide modelling that will help national policymakers from across Africa manage the virus in real time.
The project, Predictive modeling and forecasting of the transmission of COVID-19 in Africa using Artificial Intelligence, will receive more than $1.2 million in funding from the International Development and Research Centre (IDRC). It is one of nine projects selected for funding through the Global South AI4COVID Response Program, focused on low and middle-income countries.
Professors from three faculties and four major research centres and laboratories at York will contribute their expertise to the project. In addition to Kong, the Principal Investigator, key York participants include:
New simulation AI apps allow public health agencies to plan for mass COVID-19 vaccinations
TORONTO, Nov. 20, 2020 – Once a viable COVID-19 vaccination is ready, the logistics of how to vaccinate everyone becomes one of the next hurdles. Researchers at York University have developed a solution, an artificial intelligence drive-through mass vaccination simulation application that can help clinics and public health agencies plan for mass vaccinations ahead of time.
The drive-through simulation app and its artificial intelligence version, now available online, can be used to determine how to best immunize large numbers of people against SARS-CoV-2, rapidly and safely, once the vaccine has been produced and distributed. Drive-through facilities have been used for immunizations for other diseases and COVID-19 testing, but this tool allows for enhanced planning, design, operation, feasibility, and effectiveness assessments. Continue ...
New COVID-19 rapid research funding for York professors
TORONTO, Monday, March 23, 2020 – Three more York University professors will receive $703,217 in funding for COVID-19 related research to better inform the best way forward, the Canadian Institutes of Health Research (CIHR) announced. Two other York researchers are co-applicants on another $666,667.
Announced recently, this new funding follows a previous COVID-19 rapid research funding announced on March 6 by CIHR for three other York projects.
Professor Jianhong Wu of the Faculty of Science and director of ADERSIM is leading a national COVID-19 math modelling team. The Fields Institute for Research in Mathematical Sciences has received $666,667, along with local and international partners, to mobilize this national network of infectious disease modellers to develop mathematical technologies to assess transmission risk of COVID-19 and project outbreak trajectories. Co-applicants include Associate Professor Ali Asgary, deputy director of ADERSIM and the School of Administrative Studies in LA&PS, Professor Jane Heffernan and Professor Huaiping Zhu, director of the Centre for Disease Modelling in the Faculty of Science, and Professor Adriano Solis of the School of Administrative Studies in LA&PS. These researchers are evaluating public health interventions for its prevention and control, and to inform public health policy makers. Their goal is to conduct multi-scale modelling to assist in the development of effective intervention and mitigation strategies. Continue...
A team from York University's Advanced Disaster, Emergency & Rapid Response Simulation (ADERSIM), led by Professors Adriano O. Solis and Ali Asgary from the School of Administrative Studies, has made a lasting impact on the City of Vaughan's Fire & Rescue Service (VFRS) and future city planning.
After receiving a grant from the Canadian Association of Fire Chiefs in 2017, the ADERSIM team built local and international partnerships for a project titled "Igniting Insight: Using GIS and Analytics in the Fire Service."
Over the past two years, the project has brought together colleagues from VFRS, Universidad Autónoma del Estado de México, the University of Calabria and the University of Genoa to develop a modelling and simulation tool used to examine performances of fire and rescue services and provide solutions for optimum use of resources. Results from the simulation have led VFRS to better evaluate community risks and consider improvements in its operations. Using predictive analysis of, as well as simulating responses to, more than 10,000 emergency incidents annually, the results that are generated and assessed will help determine the placement and allocation of fire stations and resources.
For implementing these operational innovations, VFRS Fire Chief Deryn Rizzi was presented the Bronze Innovative Management Award at the 2019 Institute of Public Administration of Canada's 71st annual conference, Public Sector Transformation: Action and Meaningful Change, in Winnipeg.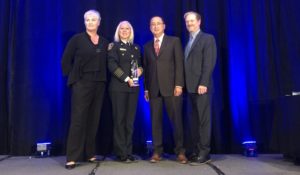 Pictured from left to right: Beth Bell (IBM Canada, vice-president, enterprise and commercial Canada), Chief Deryn Rizzi (Vaughan Fire & Rescue Service), Professor Adriano O. Solis (York University) and Scott Thompson (CEO, Institute of Public Administration of Canada)
Rizzi expressed gratitude for the vital contributions that professors Solis and Asgary have made through the partnership.
"The entire team deserves kudos for their professionalism and innovation in the pursuit of better outcomes. We are thankful for their efforts and look forward to their continued participation in future endeavours," Rizzi said.
Solis was invited to join Rizzi in accepting the award on Aug. 20.
"Our active collaboration in this project exemplifies community engagement of York professors by way of relevant, applied research," Solis said. "It has been truly delightful for both Professor Asgary and I to be able to apply our expertise in modelling and simulation in an effective and truly meaningful way."
Watch this YouTube video to learn more about the Igniting Insight project
---
---
ADERSIM Team participated in Pearson Airport Annual Functional Exercise (#YYZEmergEx)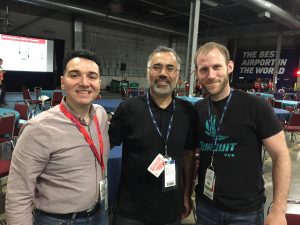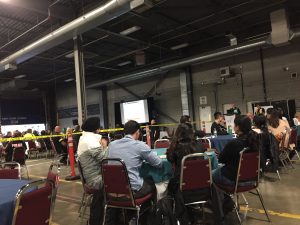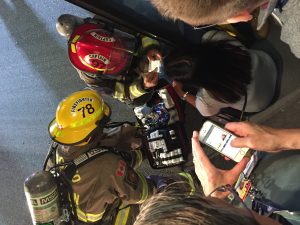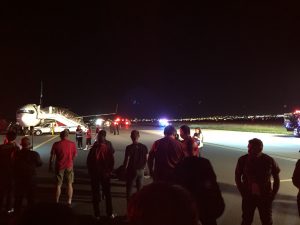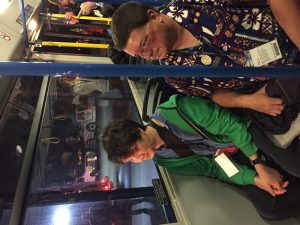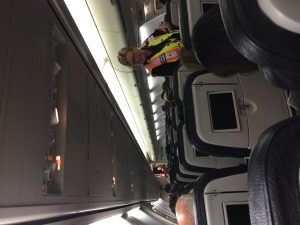 ---
Professor Jianhong Wu, ADERSIM Director, receives NSERC/Sanofi Industrial Research Chair in Vaccine Mathematics, Modelling and Manufacturing
"The dedicated resources this collaboration brings will enable us to focus on infectious diseases that are critically important to the health of Canadians. With access to clinical trial data and vaccine efficacy data from both public agencies and the private sector, we will use mathematical modelling to inform the most efficient and cost-effective ways to immunize the public against these diseases."
Jianhong Wu, York University Distinguished Research Professor, Faculty of Science
For more info on this please visit here.
---
ADERSIM team participated in TTC-YORK Emergency Exercise by Creating a High Tech Shadow EOC
Students from the Disaster and Emergency Management (DEM) program and Advanced Disaster, Emergency and Rapid Response Simulation (ADERSIM) program participated in the TTC/York exercise in four diverse groups.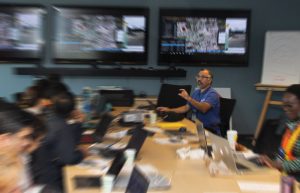 "Our collaboration with the Community Safety Department in this emergency simulation exercise helped to inform our work in developing the state of the art modelling and simulation technology for disaster management in ADERSIM (Advanced Disaster, Emergency and Rapid Response Simulation) and provided an invaluable research and training opportunity for our NSERC CREATE program trainees," said Ali Asgary, associate professor of disaster & emergency Management, and the associate director of ADERSIM.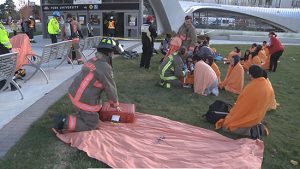 For more on this please visit:
TTC emergency simulation offered unprecedented experience for York U students
---
ADERSIM team participated in Brampton Emergency Exercise on September 19, 2017.
The City of Brampton (ADERSIM Partner) held its largest full-scale emergency exercise on Tuesday, Sept. 19, responding to a fake tornado touchdown at the Powerade Centre.
More than 100 volunteers (including a number of graduate and undergraduate students from York University's disaster and emergency management programs) applied injury makeup and some impressive acting skills to help create a realistic atmosphere for multiple emergency responders as they put theory into practice and worked together to to deal with the challenges a major disaster poses.