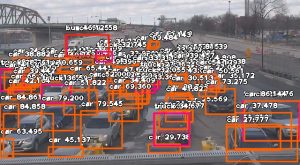 The Advanced Disaster, Emergency and Rapid-response Simulation (ADERSIM), based at York University, is a facility, as well as a suite of programs created by an interdisciplinary team of 30 outstanding researchers from across Canada. Building on expertise at York and our long history of operating Disaster & Emergency Management (DEM) programs, we will develop the latest modelling and simulation technology within a state-of-the-art DEM centre. The goal is to evaluate and enhance disaster and emergency planning and rapid emergency response strategies by governmental, non-governmental and private sector organizations in Ontario, across Canada and around the world.
Facility: ADERSIM's facility is a multi-function infrastructure will mimic an advanced Emergency Operations Centre (EOC) found in many large organizations today. Uniquely, this EOC will be situated on a university campus to facilitate advanced research and training. The facility will be equipped with: web-based, agent-based software tools to develop large scale disaster simulations; unique 3D immersive virtual reality lab kit for mobile communications, artificial intelligence, augmented reality and image analytics; a robust communications and digital media system, next-gen distributed video systems on a converged network, an advanced vision system including IP Video Surveillance in a windowing process format, and digital signage.
Progress and Partnerships: ADERSIM will prioritize emergency management issues and topics that are of particular importance to Ontario and Canada. Projects undertaken by research teams at ADERSIM, especially in early stages, will reflect the needs and interests of the industry and government partners that align themselves with the program and facility.